The eligibility requirements are as follows:
The participants must
have a passion for positive change and arts
attend all the sessions
participate actively in the training 
do regular homework
consent to their artwork being used for fundraising 
submit at least 5 final artworks
No age limits; but ideally at least 8 years of age.
The lessons of the art program are as follows:
Assessment, Consent Form, Certificate, and Copyright
The purpose, values, mission, and objectives of the art program are introduced to the participants at the beginning of the program and post-assessments are conducted for each cohort after they have submitted their final artworks. Then, the "Certificate of Appreciation and Contributions" to the art program is provided. In addition, the consent form and copyright form are also signed by each artist – the participants. The participants and their parents or guardians understand that their artworks will be used for fundraising and that those paintings will be used for an exhibition at public events or art museums. At times depending on sales paintings may be gifted to individual leaders and organizations that are promoting human rights and assisting humanitarian causes around the world. Artists' full names or provided artist names, the date of their painting, and a 1- minute Youtube video code – where they tell their stories in their ethnic Kachin language with subtitles in both English and Burmese – are provided for each of their paintings.
Thousands of members of the civil disobedience movement (CDM), prominent politicians, activists, and individual anti-coup protestors are on the run for security reasons and have taken refuge in the mountainous area called "Laiza". It is nestled inside Myanmar's border with China and is under the control of the Kachin Independence Organization (KIO) which has been fighting for justice, peace, liberty, and autonomy since 1961. The KIO is also taking care of thousands of internally displaced children (IDPs) who are unreached and untouched by many local and international organizations such as UNDP, UNICEF, and WHO. A total of 8 children from  Laiza participated in the program.
Location -2: Alen Bum School for Internally Displaced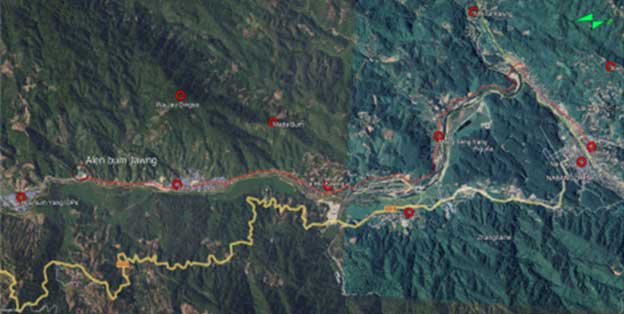 Alen Bum School for internally displaced children is 12.3 km away (45- minutes by motorbike)  from Laiza. It is located between Je Yang Camp and Hpun Lum Yang Camp for IDPs. The school serves as a sanctuary for over 2000 children including family members of CDM and politicians that are on the run. It is under the supervision of KIO. A total of 12 children and 2 teachers from the Alen Bum School successfully participated in the program. In addition, a third cohort of over (90) students completed the art program.
Location -3: Htoi Ningshawng Boarding School from Mai Ja Yang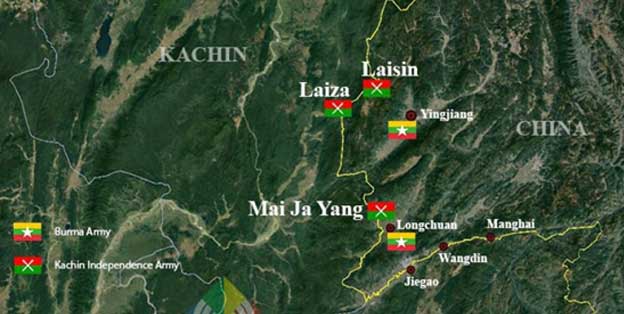 The Kachin Independence Organization (KIO) has maintained control over the region surrounding Mai Ja Yang, a town located on the Chinese border. In spite of the numerous difficulties and impediments in their way, more than eighty students from Htoi Ningshawng Boarding School have participated in the art program. They joined together in the middle of their painting class to sing their motivational song, which was a cover of Matisyahu's "One Day." Their stunning performance of that song, which can be listened to and watched on Youtube, is available there.